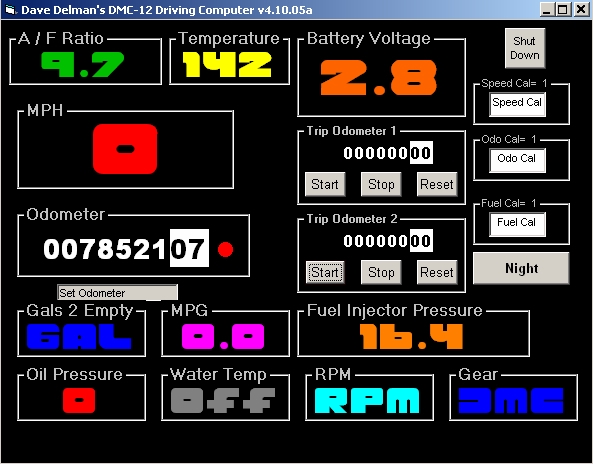 A computerized* system with a color display that will graphically and alpha-numerically show various parameters of a trip and engine performance, such as:
TRIP:
Speed, Distance, Elapsed Time, Miles Per Gallon, Distance / Time to Destination, Miles until empty
ENGINE:
RPM, Oil Pressure, Water Temperature, Electrical System Voltage, Gear Selected
OTHER:
Inside and outside temperature, Time and Alarm Clock
Hey and anything else I (we) can dream up!
* 4/30/05 - Since its inception the DeLorean Driving Computer's CPU has gone from its begining's as a Compaq 2010c, to an HP Jornada 680 to its current status, a 1GHz mini-ITX system running winXP. The orginal analog to digital input device was a Dataq 194RS. I has now been replaced with a Measurement Computing Corp. PMD-1208FS.
Contact me for more information or to air your comments.